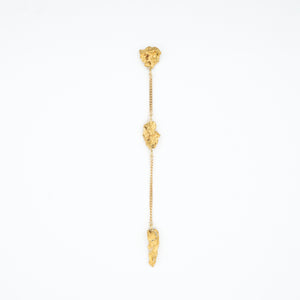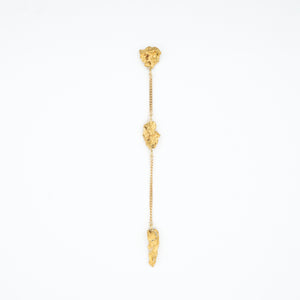 On Sale
Mola Earstud
This single ear stud features three one of a kind gold nuggets and a 18k yellow gold chain. The earstud is approximately 70 mm long. The length of the chain from the first Goldnugget to the second is 15 mm and from the second Goldnugget to the third is 25 mm.
Sold Individually.
Details: 
Weight of each gold nugget is approximately 1 gr.

The purity factor of the gold nuggets is up to 97% I 22-23k gold

Earring chain: 18k gold certified by RJC / Length 70 mm 

Ethical sourced material

Certificate of authenticity

Please allow 14 days for a shipping notification
Quantities will always be limited since the gold nuggets are distinctly one of a kind. The picture shows an example of ear stud that could be yours.